Not too long ago, that probably wouldn't have happened as easily or as smoothly as it did last night. But we are a different shelter than we were back then. We've come a long way in the past year and a half. In fact, just last week we expanded our dog adoption floor, adding nine more kennels so that our dogs can meet potential adopters as soon as they are ready to go to a forever home.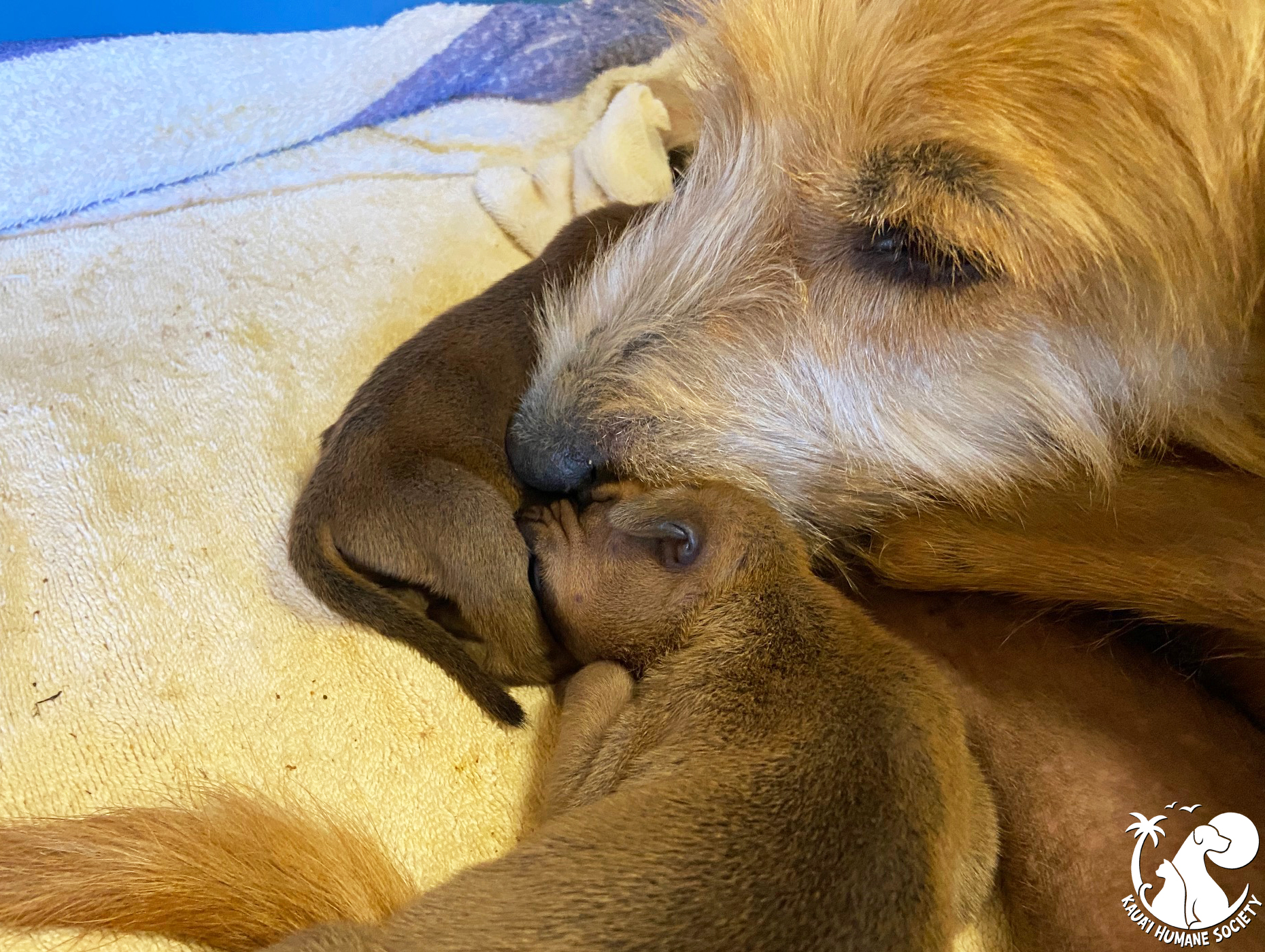 Why was this expansion so important? Because we are working hard to make sure that every dog and cat who enters our shelter has the best chance possible at finding their forever home. Rather than having dogs wait weeks for space on the adoption floor, we wanted them to meet the public as quickly as possible. Expanding our adoption floor allows this to happen.
One of the ways that shelters measure their success and quantify their lifesaving efforts is to measure their Live Release Rate. One of the targets that many shelters have is to be able to call themselves "No Kill." To be considered a No Kill shelter, a shelter needs to achieve a Live Release Rate of over 90%.
The Kauai Humane Society has been a No Kill shelter for dogs for the past 8 months! Since the beginning of this fiscal year in July, 2019, our Live Release Rate for dogs has been 95%! Our Live Release Rate for cats is also on an upward trend. Since October of 2019, our Live Release Rate for cats has ranged between 75-89%. As we move into this year's Kitten Season, we want to keep that going. And to do that, we need YOUR help!
Join us this Saturday, March 7, for our Second annual Kitten Shower! Learn about fostering our most vulnerable kittens; donate supplies; learn how you can volunteer in the shelter to make an impact. There are so many ways to help!
We'd also LOVE to have you join us next Saturday, March 14, to celebrate how far KHS has come and to learn how YOU can help us continue on this path of progress. Learn about our Sunset Gathering here!
Thank you on behalf of all of Kauai's Dogs and Cats,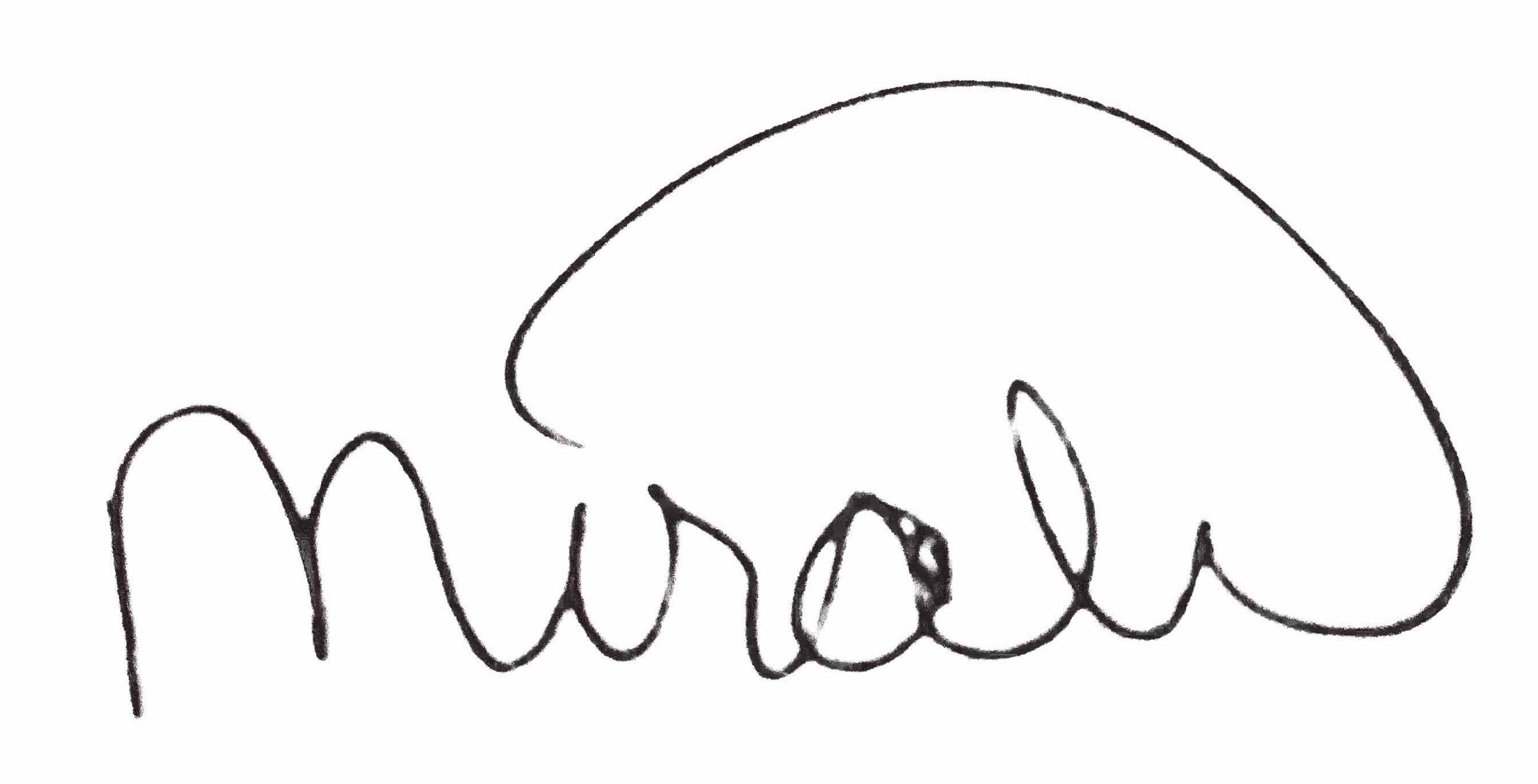 Mirah Horowitz
Executive Director
Kaua'i Humane Society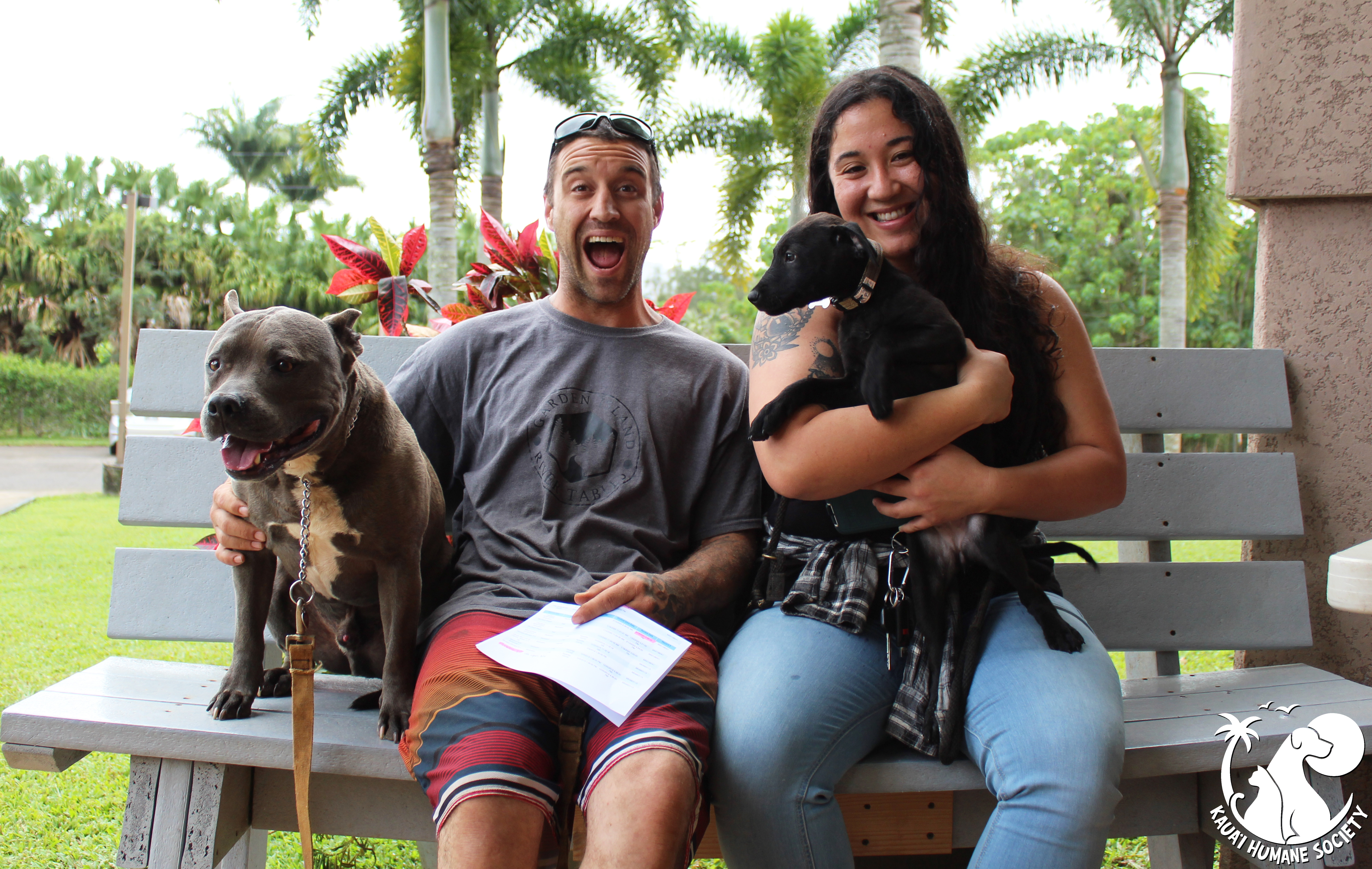 February By The Numbers!
Last month, KHS found homes for 91 dogs, cats, and guinea pigs, transferred 67 dogs and cats to mainland rescue partners, and reunited 30 dogs and cats with their owners. MAHALO to all our amazing volunteers, staff, and supporters who helped so many happy tails come true!

Save The Date: Kitten Shower - March 7, 2020
The Kittens are coming! This Saturday, March 7, join the KHS team for an adorable Kitten Shower. From 1 to 3pm, enjoy food, drinks, games with prizes, and more. Meet some of our baby kittens looking for foster and forever homes. If we're lucky, enjoy a bottle feeding demonstration too! Plus do your part to save the lives of hundreds of kittens and participate in our donation drive.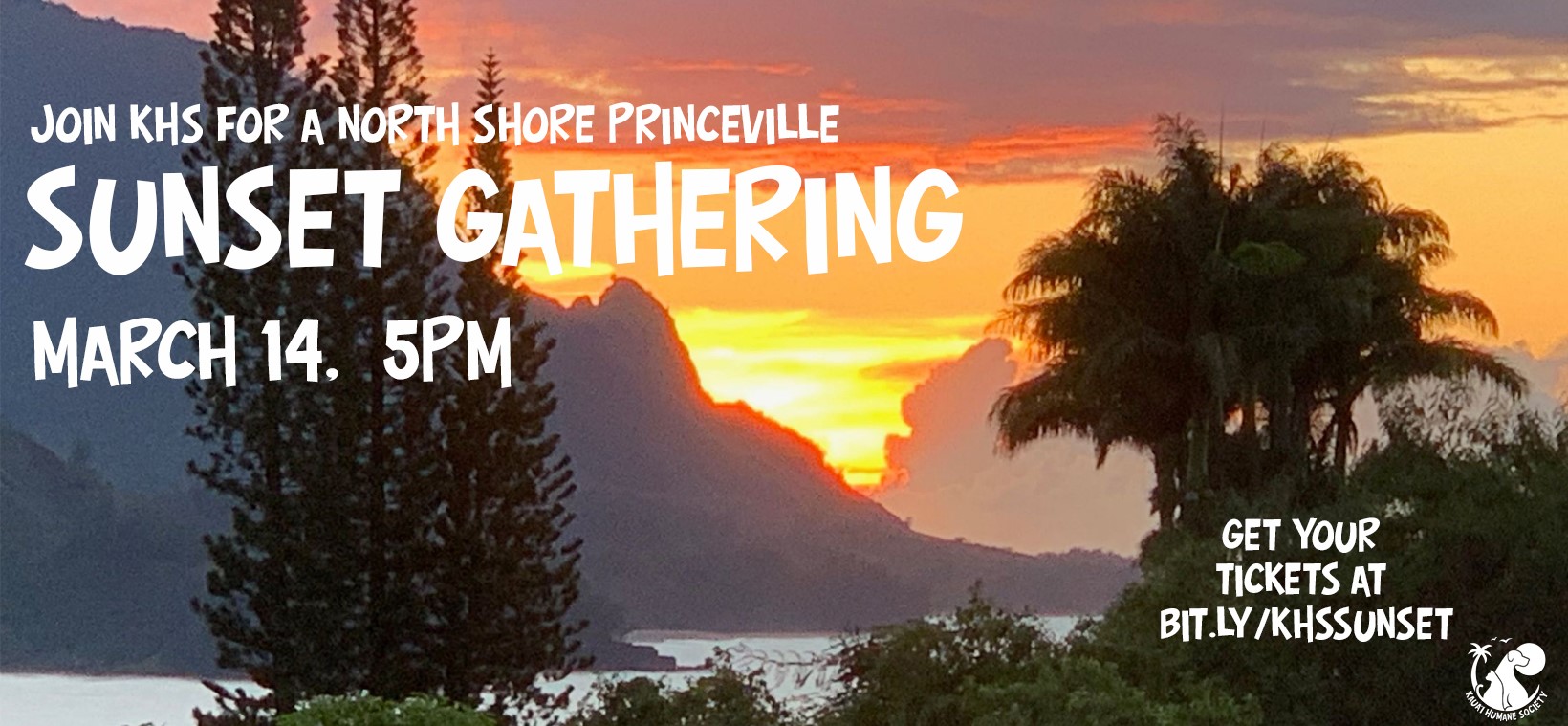 Save the Date: Sunset Gathering - March 14, 2020
Join the KHS team for a North Shore Sunset Gathering! On Saturday, March 14 enjoy drinks, pupus, valet parking and more! Food will be catered courtesty of Jean Marie Josselin of Jo2. While we can't promise a beautiful sunset, we can promise an evening of life-saving opportunity. Meet the KHS executive director, board members, and some of our staff. Learn how YOU can help save the dogs and cats of Kaua`i. Attire is resort casual. Tickets are $25 a head.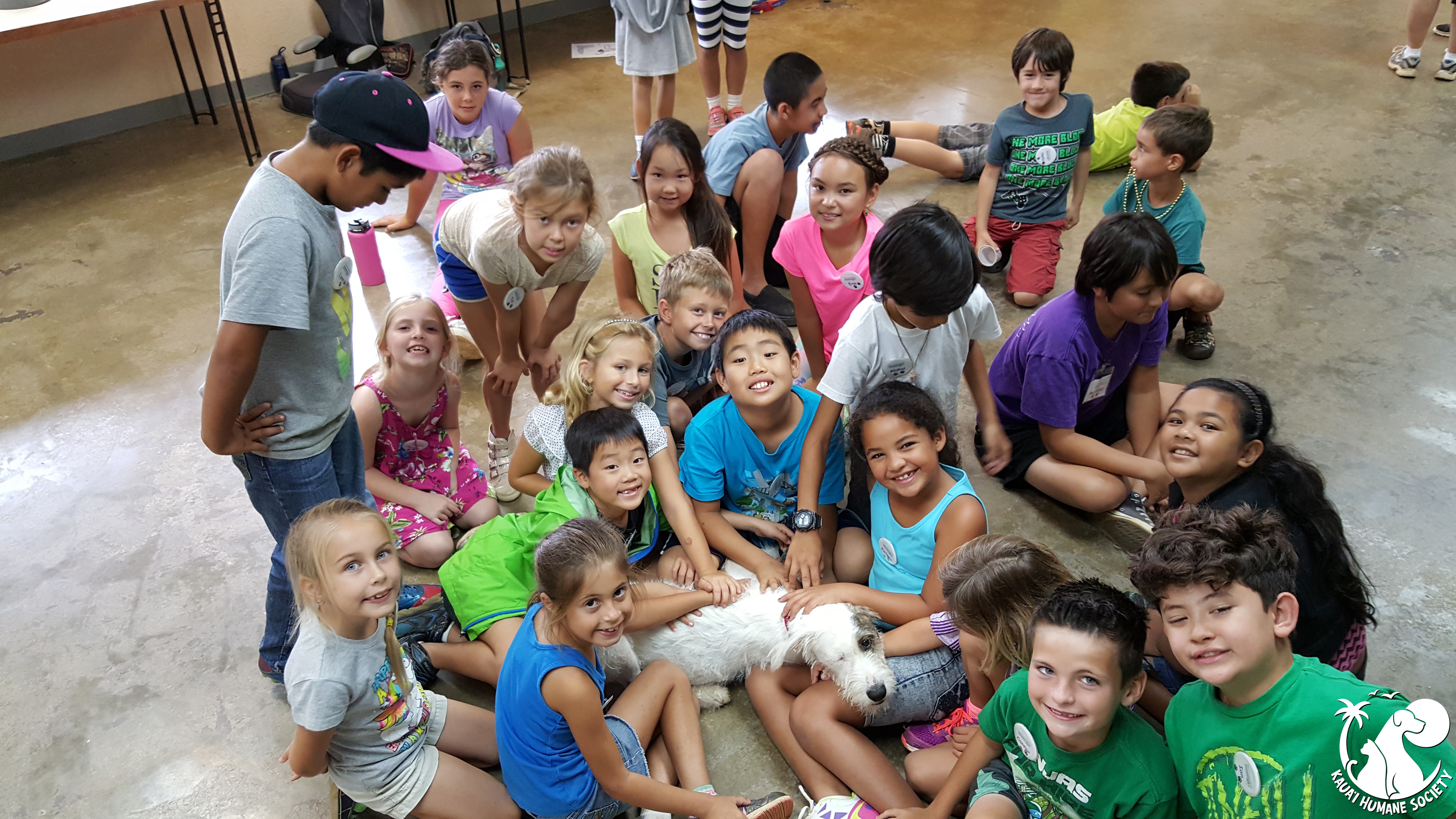 Save The Date: Spring Break Critter Camp
Are your keiki looking for something fun to do this Spring Break? Don't leave them sitting at home. From March 16 to March 20, Spring Break Critter Camp will be in session! Full 5-day registration, as well as single day registrations are available. Early drop-off & late pick up too! Your keiki will learn all about animals, veterinary medicine, dog training, humane education, and more. Plus, lots of fun games, art & crafts, and socialization with other kids.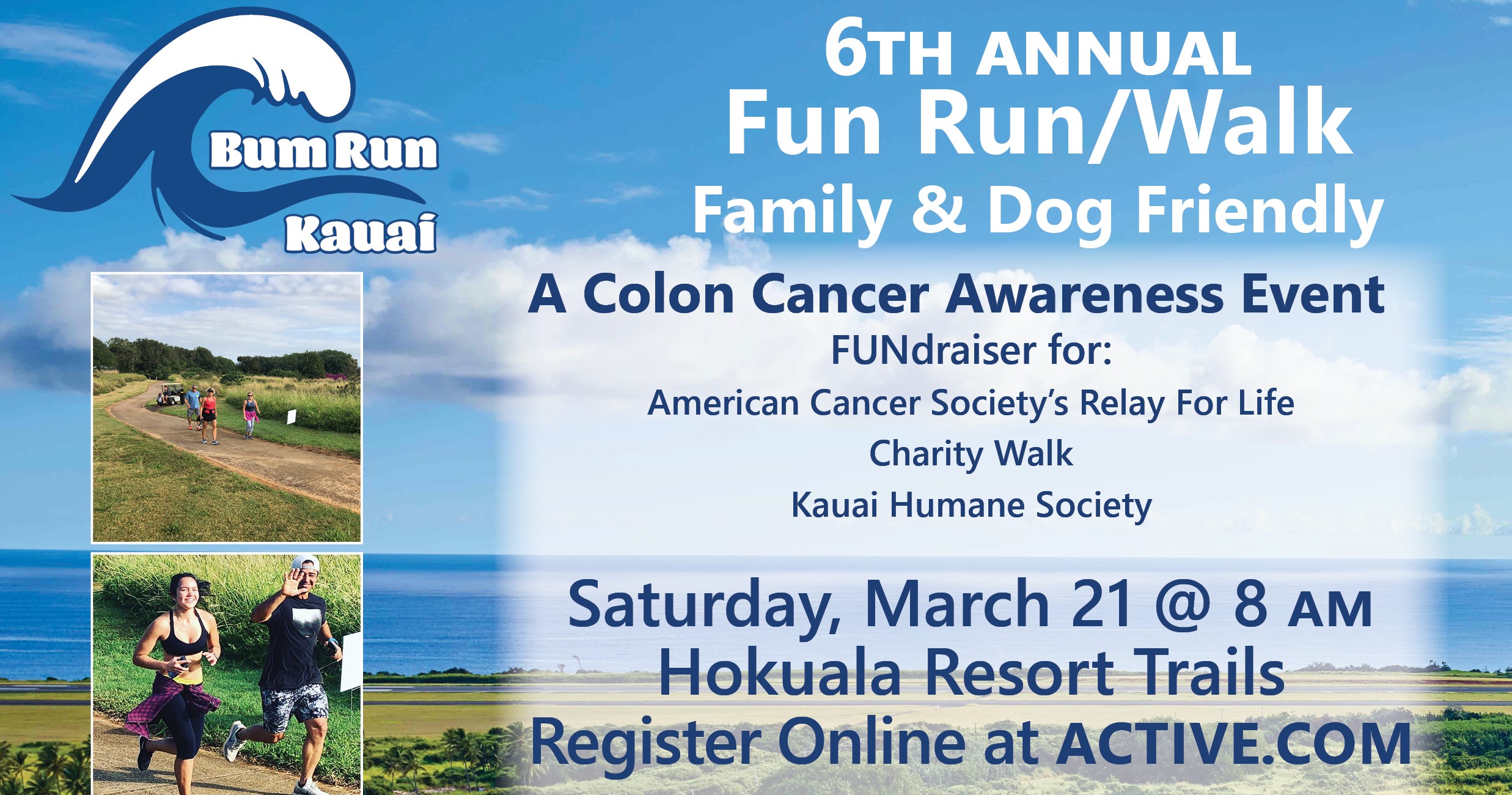 Save the Date: Bum Run - March 21, 2020
On March 21, the 6th annual Bum Run will be taking place at Hokuala. This dog-friendly running/walking event raises awareness about colon cancer. Plus, part of the proceeds will support the dogs and cats of KHS! We will be there with some adoptable dogs! This event is for anyone who loves being active and supporting a good cause.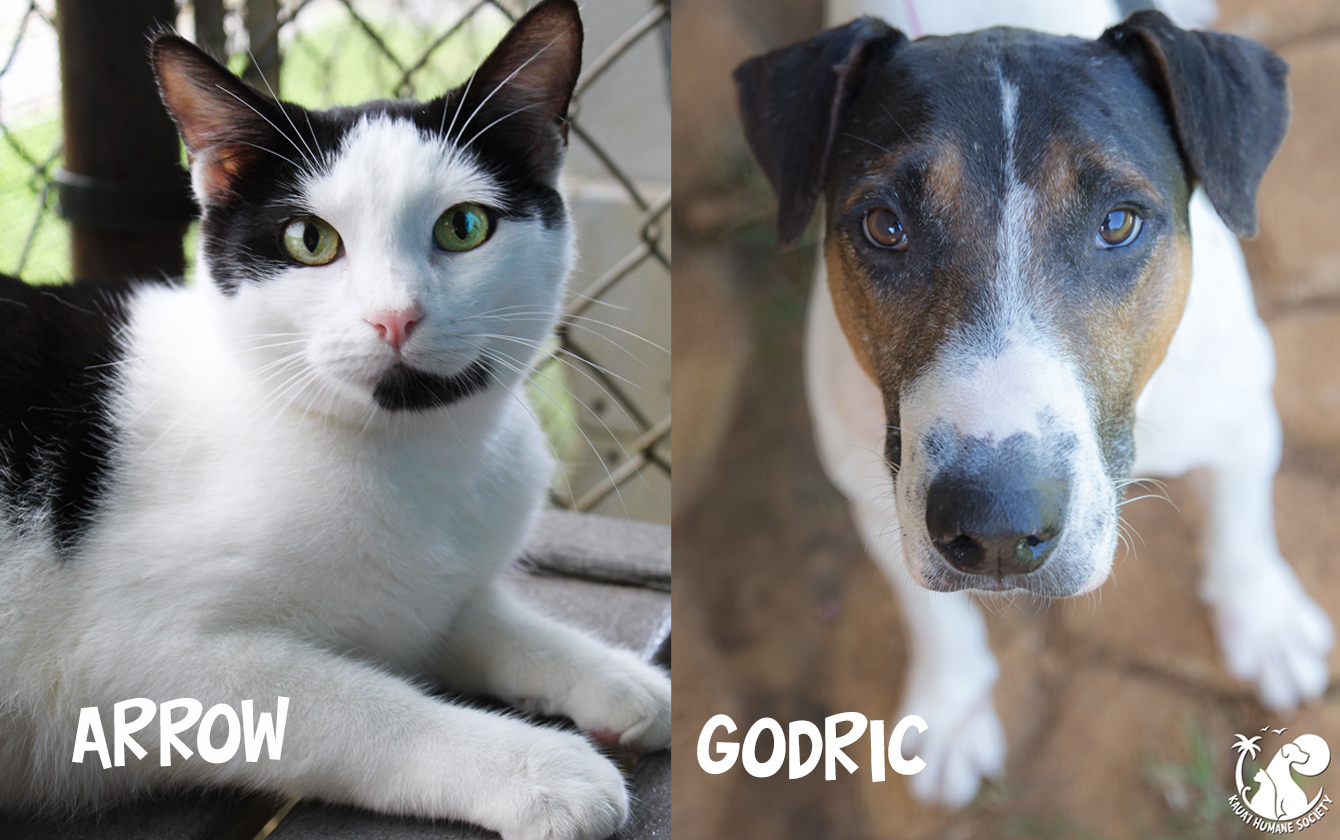 Featured Animals: Arrow & Godric
Meet Arrow: This handsome boy is only 8 months old. Arrow came to the shelter as a small kitten, and somehow had a BB gun pellet stuck in his foot. He was very scared and distrusting of people. Now, months later, Arrow has learned to trust and LOVES attention. He is the kind of cat that will melt in your arms, purring the day away!
Meet Godric: Happy-go-lucky Godric has been through some rough times. When he came to KHS in December he had a large mass growing off the side of his neck. He needed immediate surgery. Godric healed up perfectly and has not had a problem since. But now he's been living in the shelter for almost 4 months. He gets to go out on field trips, but is wondering where his forever family is? At 9 years old, this senior boy hopes to live his golden years in a loving home.

Volunteer Spotlight: Jan Martin
"Aloha all, I am Jan Martin; wife of 47 years, mother of 2, Grandmother of 8 and great grandmother of 1 and another on the way. I spent 31 years in the US Army, with 3 combat years in Afghanistan. Shortly after my last combat tour came retirement with a VA rating of 100% disabled, which meant no more working. I needed purpose, I could not go from who I was and what I did to nothing. Enriching the lives of the animals at the Kaua`i Humane Society is so rewarding for me, this gave me purpose. The animals give so much love and joy. Being able to treat them with playful Kong's three times a week is absolutely an emotional experience. Some get really excited, some need a little cheering up, some of the new guys are scared and need a friendly voice, some just need a buddy for a minute or two or a walk in the back yard. I want them to know they have a friend in me until their forever family comes. I have noticed in my short time, the PEOPLE at KHS truly embrace the ALOHA SPIRIT and I want to be a part of this team. A little extra about my family is the story of my husband's ancestor Richard Martin of Ballynahinch Castle, Galway Ireland. He was given the nickname Humanity Dick for taking to Parliament in London the first law to prevent cruelty to animals. He was one of the founding fathers of the RSPCA in the UK in 1824. The ASPCA in America was established in 1866. So there you have it, the love of animals is in my blood (sort of)."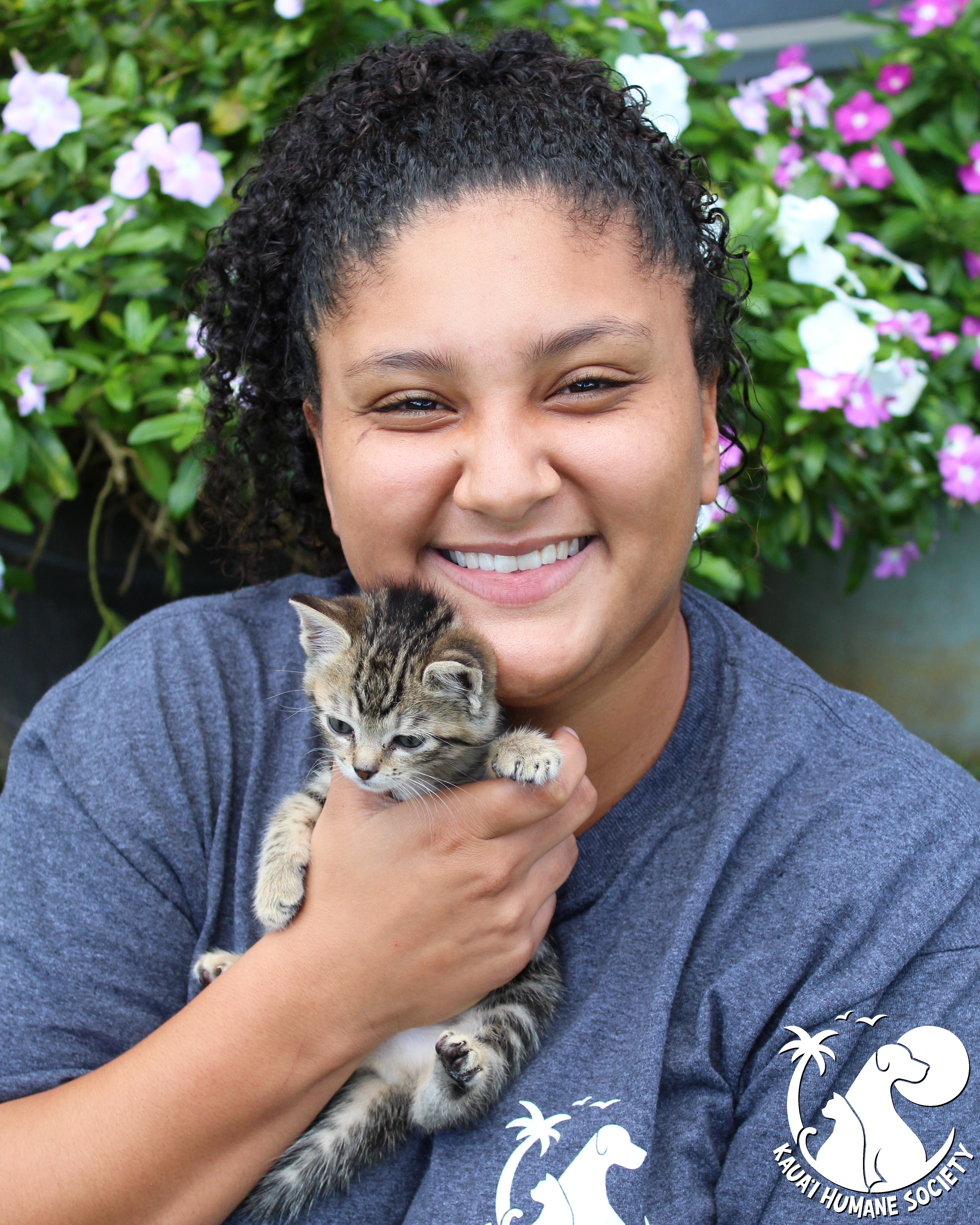 Staff Spotlight: Jada Ayon - Customer Service Representative
"My name is Jada Ayon, I am originally from Los Angeles, California and moved and grew up in the town of Kalaheo, Kauai. I attended Chiefess Kamakahelei Middle School and then went onto attend Waimea High School. I currently reside in Lihue with my Fiance and have two beautiful step-daughter's that I love very much. Growing up I've always wanted to be involved with helping others and seeing what I could do to make a difference. After High School I left the Islands for a couple years to be with family and returned back to Kaua'i in 2016. Upon arriving back to Kauai I came to work at the front desk of the Kauai Humane Society in 2016-2017. After a couple years working with my other passion in Aviation as a Ramp Control Supervisor at a local helicopter company; I decided to do what brings me most joy and return back to the front desk at KHS in January of this year. By being at the humane society I have been able to help people add new additions to their homes whether in Hawaii or somewhere to the mainland. Seeing how much of a difference I can make by helping find animals new homes, I decided to foster a beautiful little kitten named "Luna". Being able to bring her home and watch her grow makes me so happy to know I was able to help give her the AMAZING life that she deserves! Come see me at the front desk, I would love to see how I can help bring happiness to your home and/or vacation!"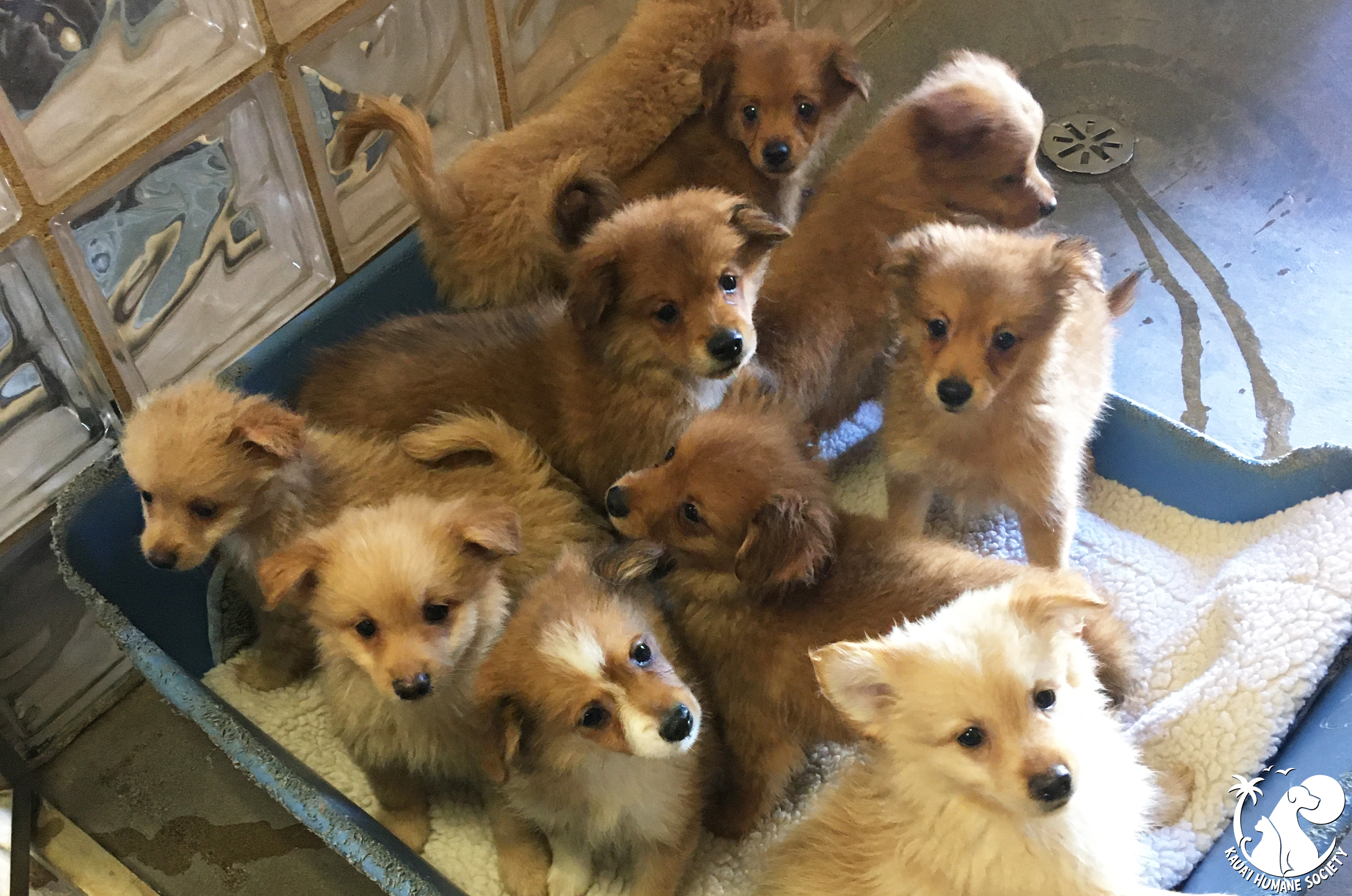 KHS Cares: Low Income Spay & Neuter Program
Spaying or neutering your animals is incredibly important. It offers great health benefits for the animals. Spayed female animals have a lower risk of breast cancer, which is 90% fatal in cats and 50% fatal in dogs, and eliminates any risk of uterine infection, uterine cancer, and ovarian cancer. Neutered male animals have no risk of testicular cancer. The Kaua`i Humane Society is proud to offer low-cost spay/neuter services for low income owners in need. Depending on the need, your pet's spay/neuter surgery may be partially or fully subsidized by KHS. An application process is necessary. Once the application is received, a staff member will review and discuss eligibility for financial assistance with you. Don't let cost be the deciding factor! Spay and neuter saves lives!